ABBREVIATIONS AND ACRONYMS
DOVM = Double-orifice mitral valve
ASD = Atrial septal defect
TEE = Transesophageal echocardiogram
TTE = Transthoracic echocardiogram
Fig. 1 - A) 2D echocardiogram showing DOMV; B) 3D echocardiogram showing DOMV; C) Intraoperative ASD; D) DOMV shown by an atrial septostomy (the arrows denote two mitral valve orifices and the septum between the two mitral orifices).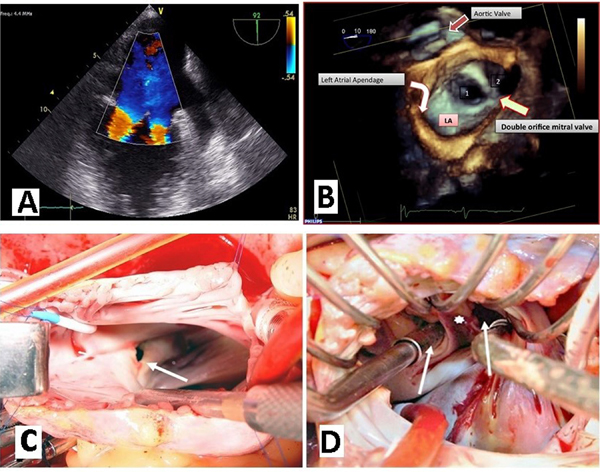 A 59-year-old male patient with history of aortic coarctation correction surgery at age 11 presented at the emergency room with severe inspiratory dyspnea and mitral systolic murmur. He was a patient without follow-up after surgical correction of aortic coarctation until the appearance of increasing dyspnea in the last 2 years. The first possible diagnosis of double-orifice mitral valve (DOVM) was based on echocardiogram data performed in 2012 as part of the investigation of increasing dyspnea. The recent transesophageal echocardiogram (TEE) revealed normal ventricular function, moderate to severe mitral regurgitation, DOMV and an 11-mm ostium secundum atrial septal defect (ASD).
REFERENCES
1. Anwar AM, McGhie JS, Meijboom FJ, Ten Cate FJ. Double orifice mitralvalve by real-time three-dimensional echocardiography. Eur J Echocardiogr.2008;9(5):731-2. doi: 10.1093/ejechocard/jen149.
2. Liu S, Ren W, Ma C, Yang J. Congenital Double-Orifice Mitral Valvein Asymptomatic Patients. Int Heart J. 2018 Jan 27;59(1):213-215. doi:10.1536/ihj.17-033. [MedLine]
3. Pillai VV, Karunakaran J. Repair of Double Orifice Left AV Valve(DOLAVV) with Endocardial Cushion Defect in Adult. Braz J Cardiovasc Surg.2017;32(4):338-40. doi: 10.21470/1678-9741-2016-0034. [MedLine]
4. Pires N, Li W, Senior R, Khattar RS. Incidental finding of a doubleorifice mitral valve in an elderly patient: value of 3D imaging. Echo Res Pract.2017;4(3):K21-K24. doi: 10.1530/ERP-17-0023. [MedLine]
5. Samiei N, Dehghan H, Pourmojib M, Mohebbi A, Hosseini S, Rezaei Y.Isolated double-orifice mitral valve in a young girl. ARYA Atheroscler.2017;13(6):295-8. [MedLine]
6. Sinha SK, Mishra V, Singh K, Asif M, Sachan M, Kumar A, et al.Bi-Luminal Mitral Valve: Incidence, Clinical Features, Associated Anomaly andEchocardiographic Evaluation. J Clin Med Res. 2016Dec;8(12):893-898. [MedLine]
7. Tomita Y, Yasui H, Tominaga R. Mitral valve repair for isolateddoubleorificemitral valve with torn chordae. Ann Thorac Surg.1997;64(6):1831-4.
No financial support.
No conflict of interest.
Authors' roles & responsibilities
MMDR Substantial contributions to the conception or design of the work; final approval of the version to be published
ACM Substantial contributions to the conception or design of the work; final approval of the version to be published
OCAF Substantial contributions to the conception or design of the work; final approval of the version to be published
WVAV Substantial contributions to the conception or design of the work; final approval of the version to be published
PRBE Substantial contributions to the conception or design of the work; final approval of the version to be published
Article receive on Sunday, August 12, 2018
Article accepted on Thursday, August 30, 2018